Questions and answers
Introduction about this web pages.
Redaction, which services this pages, consist of Petr Balej and Daniel Jablonski. Contact: balcanica@balcanica.cz. We are not organisation, but only free association of different authors with common interest in given branch. We are doing all of these activities in our free time.
What is the meaning of the word "balcanica"?
Name "balcanica" (adjective meaning "Balkan's" in translation) is used in names of (not only) Balkan taxons (Rana balcanica, "Vipera aspis balcanica", fish Sabanejewia aurata balcanica, dragonfly Calopteryx splendens balcanica, herb Pinguicula balcanica, ...) so it is not concerning only herpetofauna (to get know sense of this see next chapter).
Creation conditions, sense
Creation of this websites originated in demand of the first authors to transparently aggregate locality records and photos from their voyages on the Balkan peninsula. It is paradox, that although we (Czechs) are not Balkan nation, Balkan peninsula was and propably still is most frequently visited by Czech herpetologists and terrarists. We take it that we should not forget to this fact, qualify by historical, language, price and distance reasons and to underestimate necessary of saving and recording data from these voyages. Balkan peninsula is still not herpetologicaly explored and can give new discoveries. Balkan peninsula is also (in compare with the Iberian and the Apennine peninsula in framework of the Europe) area with highest number of species and endemism of the herpetofauna.
Our aim is to create compex web as for the beginers and the generals (section basic species info), as for the specialists with ability to contribute or to find here appropriate articles, authentic locality data records, literature index, sources and other necessary information about amphibians and reptiles of the Balkan peninsula.
Content management system and registration
When it makes sense to register?
Our content management system enables to insert locality records and their corresponding photos on-line directly by its authors who want to start with mapping of Balkan herpetofauna. So it does not make sense to register if you have no observations of amphibians and reptiles from Balkans!
Registration process
Registration is authorized by redactors, so wait for activation e-mail for further info. After that you will be able to login and to start inserting records and photos. The reason is to prevent spambots penetrate content management system as valid author. Thansk for understanding.
Properties of content management system
Insert your e-mail used during registration into "login" form. In case succesfull login the frame around box of user get orange.
Our content managemenst system enables:
insert locality records (items: taxon, date of find, region, locality, detailed info about locality, GPS position, altitude, comments)
insert photos of taxons/localities (and to connect them to respective locality record)
edit profile info and change password
show your locality records via interactive Google Maps
download your records into Excel spreadsheet, so you can use it out of Balcanica
Demonstration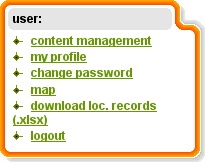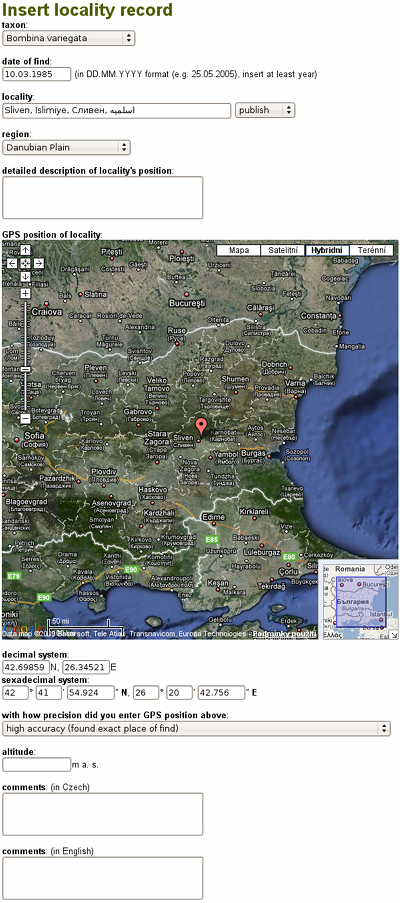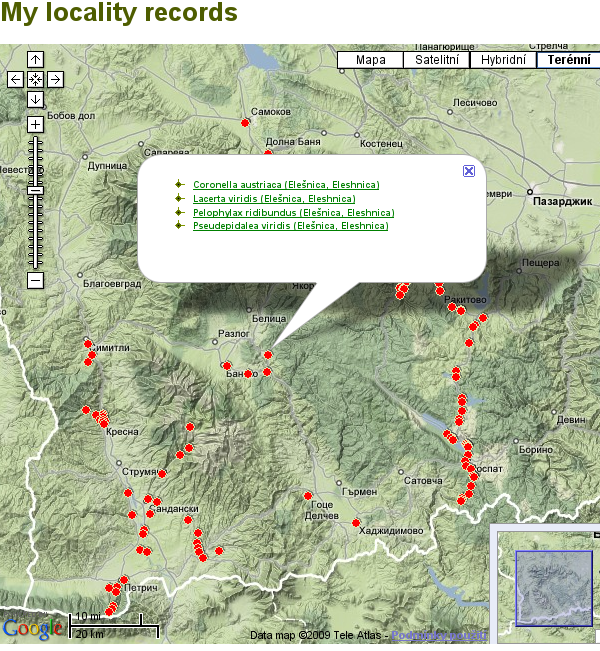 Mapping methodology
New UTM 50x50 km version
Methodology of mapping (in cartographical view) is described here: http://www.fmnh.helsinki.fi/english/botany/afe/map/index.htm (according to New Grid System).
Original version
One quadrate (green circle) is defined by side with length of 0,5° (thus 30') latitude and longitude. Quadrates at Balcanica consist of five numbers. E.g. 40201. Two first numbers (40) mean terrestrial latitude in degee and next two numbers (20) mean terrestrial longitude in degree. Last, fifth, number (1) vary from 1-4 and specify possition in interval of 30 minutes. For example see four quadrates in the red square at next picture which are described in the table.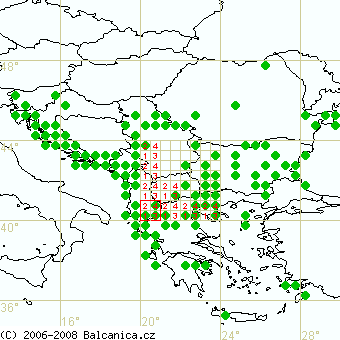 | | | | |
| --- | --- | --- | --- |
| example | quadrate | from | to |
| 1 | 40201 | 40°0'0"N, 20°0'0"E | 40°29'59.999..."N, 20°29'59.999..."E |
| 2 | 40202 | 40°30'0"N, 20°0'0"E | 40°59'59.999..."N, 20°29'59.999..."E |
| 3 | 40203 | 40°0'0"N, 20°30'0"E | 40°29'59.999..."N, 20°59'59.999..."E |
| 4 | 40204 | 40°30'0"N, 20°30'0"E | 40°59'59.999..."N, 20°59'59.999..."E |
All maps are automatically generated. So it was neccesary to use special angle-appearance map where terrestrical coordinates responds to rectangular system of coordinates. In this type of mapping are lengths and surfaces out of focus. So there are quadrates only in sence of degrees, not in sence of real lenght, e.g. in kilometres.
In practice every locality finds has its own terrestrical latitude and longitude. According to this are maps filled by green quadrates and by clicking on them are displayed appropriate locality finds.
Origin of Balcanica.cz
2004 - April/May, first talking-to about creation of web pages (then more broadly intended in European herpetofauna) originated somewhere on rails in eastern Bohemia during travel by train to meeting of Czech Herpetological Society in Destne in Orlicke Hory Mountains.

2005 - November/December During Enthomological stock exchange in Station of Young Natural Historians in Ostrava-Poruba in terraristic room was designated name Balcanica and orientation of future web pages.

2005 - 10.12. activated first developing version of Balcanica.cz on freehosting web of one of authors.

2006 - 12.2. definitive decision to use MySQL database for easier administration of localities and web pages

2006 - 14.2. domain balcanica.cz registrated together with hosting

2006 - 22.2. created almost definitive appearance of web pages, first co-authors contacted
Citation, links, using informations from this pages, authorship.
Citation:
If you want to cite complex web Balcanica.cz, you can do it like here:

Balej, P. & Jablonski (eds.) 2006-2008: Balcanica.info, available from: <http://www.balcanica.cz/>
If you want to cite only particular article, use URL and mentioned author(s), for example:

Balej, P. & Drobek, A., 2006: Základy pitevní anatomie - Hemidactylus turcicus. Balcanica.info, available from: <http://www.balcanica.info/13/12>

Or by next ways by actulal standards.
Links:
Our pages link best by this code:
<a href="http://www.balcanica.info/" title="Balcanica.info - Amphibians and reptiles of Balkan">Balcanica.info</a>
We will accept your back-link to "sources - links", if they have herpetological orientation.
Using informations from this pages, authorship:
Principal authors of this sites are Petr Balej and Daniel Jablonski, next afterwards co-authors in framework of size of their contributions.
Technical informations
Balcanica should be functional and almost identically viewable in these browsers: Mozilla Firefox (1.5 and later), Internet Explorer (6.0 and later), Opera (8.5 and later) a Google Chrome (3.0 and later).
To use content management system is needed to have JavaScript and Cookies enabled. The pages are programmed in PHP and use MySQL database. As part of the content management system is to export to Excel used PHPExcel and whisperer (for localities) from jQuery. Can not forget Google Maps for its interactive maps, and topographic screens from SRTM project used for quadrate maps.